Metal Carports in St. George, SC
Customize and purchase metal carports in St. George, SC online!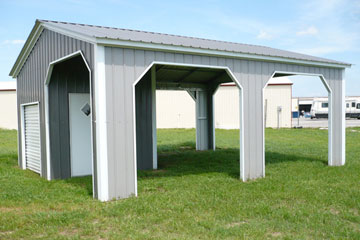 EZCarports.com is the source of metal carports in St. George, SC for protection and storage of all your belongings from cars and boats, to instruments and bikes, to equipment and decorations. Things in your life can add up, and keeping them safe from the weather for years to come is why we are here!
St. George is a place where the sense of "southern hospitality" can truly be felt. Why? Because our small town values are shown through events like the "World Grits Festival," and our setting, like the "Appleby Church" and "Francis Beidler Forrest" has been preserved and protected. While the town thrives off of this, you deserve to enjoy your belongings in the same way, for years to come, and EZCarports will make sure of that.
Why should you buy from EZCarports? All of our steel carports are manufactured to last, with a 35 year factory warranty to guarantee the investment. For over 35 years quality service has been our priority, and we want to give the same treatment to you.
Each steel structure comes with a 35 year factory warranty
Our carports are guaranteed investments for a lifetime
Every steel structure that we offer is manufactured in the USA
Our aim is to make your EZCarports experience simple and enjoyable, and our online configurator can help you build and decide which structure fits your life the best.
While St. George helps you preserve your history, let us preserve your belongings! Build and price online today or reach us Toll Free at 877-204-8816 to speak with a professional about your needs.
Make sure to consult our convenient FAQ page online for quick answers to any questions that you do have.
Check out our Carport Image Gallery to learn about our 3 different roof options on metal carports in St. George, SC.