Metal Carports in Statesville, NC
Customize and purchase durable metal carports in Statesville, NC online!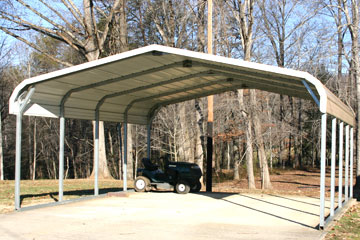 EZCarports.com is the source for the most durable metal carports in Statesville, NC available. Statesville takes pride in our rural setting, and our belongings deserve to be protected and preserved. All of the things in your life can add up, and keeping those things safe from the weather is important.
Our carports allow for all of your storage needs to be accommodated in the strongest structures available. We rely on precise manufacturing process and whether you are storing some of Statesville's finest pumpkins, or a hefty hot air balloon, our carports will allow for sturdy and weather proof protection.
Why buy a carport from EZCarports? Our quality service and manufacturing are our highest priorities. From small needs to big ones, our carports will protect your things for years.
Carports guaranteed to last as a lifetime investment
Delivery and Installation time 50% less than competitors
35 year warranty with every carport
We want to make your experience with us as easy and enjoyable as possible, and we can meet your needs in many ways. Our easy to use online configurator can help you decide which carport is a right fit for you.
We can't tell you that the weather will produce some great pumpkins this year, but we can tell you that our structures will keep the weather off of them. We are happy to assist you Toll Free at 877-204-8816 . Build and price yours today, and keep your belongings safe for many years.
Make sure to consult our convenient FAQ page online for quick answers to any questions that you do have.
Check out our Carport Image Gallery to learn about our 3 different roof options available on metal carports in Statesville, NC.