Metal Carports in Suffolk, VA

Design and purchase metal carports in Suffolk, VA today!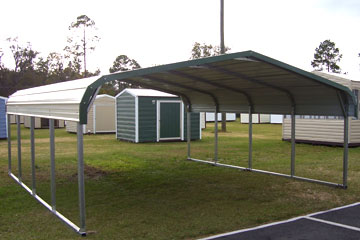 EZCarports.com offers durable and affordable metal carports in Suffolk, VA. We know how to relax in Suffolk with a multitude of golf courses from the Cedar point country club to the Suffolk Golf Course golf plays a big part in our little community. When it comes to recreation we know how to do it right, and that's why a good carport can be a game changer when it comes to keeping your equipment and carts well taken care of.
SPECIAL! - Expedited Delivery and Installation Available for Metal Carport Customers in Virginia.

Visit our Virginia Speedy Delivery Page

for More Information
The weather here in Wytheville can be humid to say the least, especially for a car, so purchasing some protection is almost a necessity. Also think about places for your, ski's, basketballs, tools, etc. all of these can be placed in a carport, to readily accommodate whatever need you have for our metal buildings.
Here at EZCarports.com we understand this very well, and take pride in keeping your equipment and automobiles, completely safe from the harmful effects of weather. Our steel carports and metal structures hold the test of time, and we guarantee this with a 35 year warranty; this is a testament to our confidence, because we've been manufacturing for 30 years.
A few other things that make us the best:
Our delivery and installation time is up to 50% less than many leading competitors.
Our carports have shown again and again their durability by withstanding the onslaught of extremely harsh weather and conditions.
We offer an extremely diverse range of options to meet exactly your specifications.
So try out our configurator online, or at least give us a cursory glance. Whether you're protecting your car from hail and wind, your golf clubs from rusting, or any other automobiles or equipment, a carport from EZCarports.com will do the job for you. If you have any questions feel free to consult our FAQ page, or give us a call at 877-204-8816 . Our operators would be more than happy to take any of your calls, and questions.
Make sure to consult our convenient FAQ page online for quick answers to any questions that you do have.
Check out our Carport Image Gallery to learn about our 3 different roof options on metal carports in Suffolk, VA.