Metal Carports in Thomasville, NC

Free delivery and installation for metal carports in Thomasville, NC !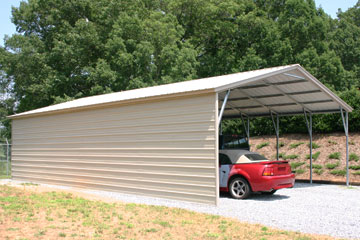 Check out EZCarports.com If you'd like a great deal on a premier metal carports in Thomasville, NC! Unfortunately, not everyone in Thomasville can have a chair big enough to cover their car! Whether you need a carport to keep your vehicles safe, or a metal garage to store some furniture, EZCarports has the perfect carport for you! In order to protect your valuables from the weathering effects of the sun and rain, it's a good idea to keep it covered with one of our carports.
At EZCarports.com, we understand that you're busy, so we've made our online carport configurator as easy as possible to maneuver. In a matter of clicks you can have a brand new fully functional carport sent and setup wherever you need it to be. The whole process can be done in less than 15 minutes. Simply enter your zip code, fill out the necessary specifications, and buy! That's it! Or you can check out our order by photo option which gives you some standard carport photos and their prices. Simple and Quick!
To begin building and pricing a carport today, simply go to our Carport Configurator and begin designing a carport to your exact specifications. Many customers have found it helpful to browse through the Standard Carports page to find ideas and suggestions for their own carport.
Some great reasons to go with EZCarports:
Friendly Customer Service 9am-9pm
Buy Online, Hassle Free
Best price Guarantee
Free Delivery
Free Installation
But just because we make it easy, don't doubt the strength and durability of our structures. We make structures using galvanized steel frames. In addition, our certified structures come standard with a 35 year warranty! But don't take it from us, check out our customer feedback online, and you'll see that or customers are completely satisfied with our products. If you have any questions give us a call at 877-204-8816 .
For further information or answers to quick questions, our FAQ page online is a great reference tool as well!
Check out our Carport Image Gallery to view the 3 different roof options available on metal carports in Thomasville, NC.