Metal Carports in Wake Forest, NC Online

Free delivery and installation with metal carports in Wake Forest, NC !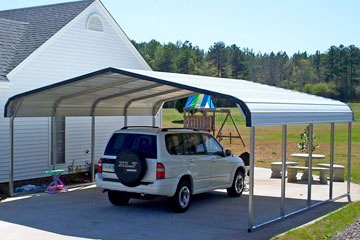 Find the most dependable metal carports in Wake Forest, NC for higher quality and a better price than anywhere else. We pride ourselves in being able to offer you a carport that will fit perfectly for any home. Just as the people of Wake Forest pride themselves on keeping their ways intact, we pride ourselves on the products we put forth, making sure that every metal structure that we produce is built to last.
So come check out our configurator online to design your own carport, it's quick and easy to use. You start by entering your zip code on our front page. Afterwards, you construct your own carport, with the dimensions you need. We also offer options including walls, windows, doors, and many colors to match your carport to your home or vehicle. After you've constructed your carport exactly as you like it, take a look at the price, and purchase. The whole process can be over in less than 15 minutes.
To begin building and pricing your own metal carport, use our simple and easy to use Carport Configurator . Many of our customers enjoy browsing through the Standard Carports page for ideas and suggestions on various carport designs and dimensions.
Now what makes us better?
Friendly Customer Service 9am-9pm
Buy Online, Hassle Free
Best price Guarantee
Free Delivery
Free Installation
Well that sums up some of our better qualities, but not all. We also offer a few more deals on our site. Anything we can do to make your shopping experience better, and more fluid, we will! So let us know if you are having any kind of trouble. You can either check out our FAQ page or give us a call at 877-204-8816 .
Consult our Carport Image Gallery to see the 3 available roof options for metal carports in Wake Forest, NC!