Metal Carports in Warsaw, NC available online

Free delivery and installation for metal carports in Warsaw, NC !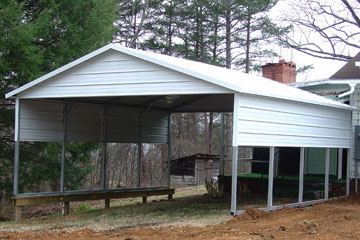 EZCarports.com has the most dependable metal carports in Warsaw, NC available. Warsaw, a golfer's paradise, is a great and relaxing place to live. Known for its small town vibe, Warsaw is filled with some of the friendliest people in the North Carolina. Here at EZCarports.com, we want to give back by offering some of the strongest and most reliable carports on the market for the most affordable prices. That's why a carport from ezcarportz.com is perfect for you!
Our carports are very affordable, especially for the quality that we put forth. Anyone looking for a carport can access our online carport configurator which will allow them to design and price their own carport with any accessories and features they want. Simply plug in your address and you can find out just how much you will need to pay for your unique carport.
Start building and pricing a carport today with our simple and easy to use Carport Configurator . You can find many different carport designs and dimensions on our Standard Carports page for ideas for your own carport.
In addition, our carports come stock with a 35 year warranty . This warranty protects from the corrosive effects of rain, sleet, and snow, which can wear down lesser carports very quickly. Unbeknownst by many, steel is actually one of the most environmentally friendly substances because all steel structures must come with a requisite 30% of recycled steel. On top of that, delivery and installation generally takes half the time of other companies. Furthermore, our delivery and installation come free with a certified carport.
Here are some more reasons why EZCarports is right for you:
Friendly Customer Service 9am-9pm
Buy Online, Hassle Free
Best price Guarantee
Free Delivery
Free Installation
If there is anything confusing about our carports, please don't hesitate to check out our FAQ page , the link is at the bottom right corner. If you still have questions or just want to talk to one of our personnel give us a call at 877-204-8816 .
Check out our Carport Image Gallery to learn about our 3 different roof options available on metal carports in Warsaw, NC.