Metal Carports in Wilson, NC
Free delivery and installation for metal carports in Wilson, NC !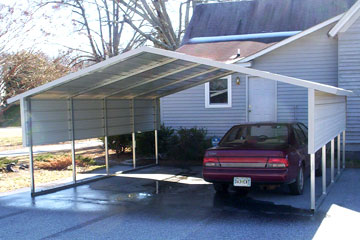 EZCarports.com is the best place to design and purchase metal carports in Wilson, NC. We are based in Boone, North Carolina where we manufacture our carports which are sold and shipped all over the country. We use 12 or 14 gauge steel coated in Flo-Coat to provide added durability and strength.
Our cars are at the mercy of poor weather conditions and environmental debris; the sun fades them, hail dents them, pollen gets caked on, and tree branches that fall during heavy winds and winter can cause major damage. Wilson, protect your vehicles with a high strength carport from EZCarports.com!
Start building and pricing your own carport today with our easy to use Carport Configurator . You can even browse our Standard Carports page if you need any ideas or motivation while designing your own.
There's no reason to leave your vehicles unprotected outdoors. Our carports are fully customizable so you can choose exactly how you want to protect your vehicles, you can choose the number of walls and windows, square footage, you can even choose the color you want your building to be. There are a number of features that set our carports apart from our competitors; here are a few of our favorite features:
Friendly Customer Service 9am-9pm
Buy Online, Hassle Free
Best price Guarantee
Free Delivery
Free Installation
So Wilson, don't leave your car unprotected! Build and price your carport today using our online configurator, or call 877-204-8816 to speak with a service representative. Invest in protection and peace of mind with a solid built carport.
If you need any further assistance, our FAQ page online is a helpful option for quick answers!
Check out our carport directory to see the 3 different roof options available for metal carports in Wilson, NC.