Metal Carports in Zebulon, NC

Free Delivery and Installation on Metal Carports in Zebulon, NC !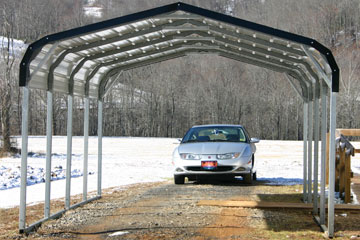 EZCarports.com has affordable and easy-to-build metal carports in Zebulon, NC! We have quality carports for a price that won't leave your credit card or bank account completely empty! We understand that any hard-working American wants a carport that is just as strong and resilient as they are. We make out carports with frames of galvanized steel, to last. Our carports are some of the sturdiest on the market; it's what we're known for! So let us deliver and Install one for you!
We understand that the weather of Zebulon can be conducive to rust, chipped paint, and other problems as a result of bad weather. We are committed to making a carport that meets all your needs, regardless of size, style, and other specifications. We offer carports large enough to fully enclose RVs or small enough for just a couple of four wheelers. Our carports can be customized with features from various colors and roofing styles to doors and windows. You can specify exactly what you'd like online or on the phone!
Begin building and pricing a carport by using our easy and hassle-free Carport Configurator . To find carports in your location simply go to the Carport Locations page. If you need any ideas for your carport design, go to our Standard Carports page to see some of our popular models.
Friendly Customer Service 9am-9pm
Buy Online, Hassle Free
Best price Guarantee
Free Delivery

Free Installation
In addition, we offer a 35 year warranty! Because we are confident in our product we guarantee that it will last a lot longer than your average steel structure. We take the time and effort to make ours sturdy so you don't have to! That's why our delivery and installation times are generally half of those of our competitors! In addition our delivery and installation is included!
So check us out at EZCarports.com and find out why we're so good. Our configurator can construct exactly what you're looking for in a matter of minutes! It will even give you a representation of what your carport will look like! All you have to do is enter your zipcode, your carport specifications, check out the price, and pay! Simple but effective. If you need any help, though, or have any questions, contact us at 877-204-8816 .
If you need any further assistance, our FAQ page online is a good resource for quick answers.
See our Carport Image Gallery to look at the three different roof options available on metal carports in Zebulon, NC!