RV Carports from EZCarports
Buy online to get free delivery and installation!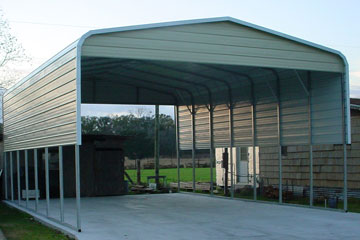 RV carports are an ideal way to protect your RV from nature's wrath. Our RV carports are affordable, durable, and are made out of 100% Flo-Coat integrated, completely recyclable, 14-gauge steel. Our RV carport kits are easy to build, easy to disassemble, and are highly versatile – they will protect your RV from the heat, rain, snow, and hail wherever you take them.
Use our online configurator to design your own ideal RV carport and get an instant quote, or select a carport from our list of popular designs on our website. Construction of RV carports is free, but we offer a 5% discount for building it yourself. Our carport kits come with a 35 year warranty so you can be sure that your RV will be protected for decades to come.
Start building and pricing an RV carport online, hassle-free with our Carport Configurator . You can find carports located near you on the Carport Locations page. Also, if you're having any trouble designing your own RV carport, check out our Standard Carports page.
Friendly Customer Service 9am-9pm
Buy Online, Hassle Free
Best Price Guarantee (

see full details

)
Free Delivery

Free Installation
All of our RV carports are portable. Building and disassembling your RV carports is easy so you can take it with you when you move, and you can set them up when you get there. Our RV carports can be set up on almost any surface, such as dirt, grass, concrete, and asphalt without a problem. Our customers have always appreciated the ability to take their carport with them when they move so they can continue enjoying it.
RV carports from EZCarport.com are perfect for protecting your RV, but are so versatile you'll find no end of uses for it. Our carports are designed to keep your property safe inside and keep the weather out, and will have no problem keeping your RV in top shape.
We strive to provide you with the easiest and most enjoyable shopping experience possible by offering the highest quality customer service and RV carports possible. Once you've built and designed your RV carport, you can order online or call one of our customer service representatives at 877-204-8816 . For any further assistance, our FAQ page can help answer any quick questions.
If you are searching for a carport by region, check out our Carport Locations page to find the structure nearest you!
Check out our RV Carports

image gallery

to learn about our 3 different roof options!