RV shelters from EZCarports
Build and price online to save time!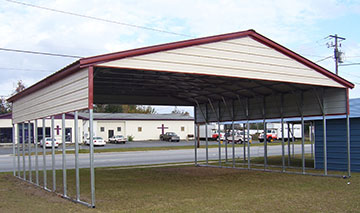 RV shelters keep your RV covered and safe from the wear and tear of weather over time. The weather, despite what forecasts tells us is pretty unpredictable, and even if it were, our most precious and sometimes expensive belongings still need to be protected from the onslaught of the sun, snow, and hail. Our RV shelters are made with 2" to 3" tubular faming, so you know they're sturdy. They are also stable on a variety of terrain, from asphalt, to concrete, to loose soil.
To begin building and pricing an RV shelter online, go to our Carport Configurator page. You can also view some of the satisfied customers near you on the Carport Locations page. On top of that, if you're having trouble designing your own carport, check out the Standard Carports page for some inspiration.
By using our RV shelter configurator, you can construct a shelter in just a few simple steps. Whatever your specifications are, you can design a shelter that meets them exactly. You can choose the color of your rv shelter, the doors, the walls and even windows if you choose. This way we cut out the middle man and guarantee a quick and easy shopping experience devoid of any unnecessary waiting.
Friendly Customer Service 9am-9pm
Buy Online, Hassle Free
Best price Guarantee
Free Delivery
Free Installation
We have relied on our RV shelters and carport experience for years, giving us experienced knowledge into the best way of making and shipping your RV shelter. Give our configurator a try, and see what we can do for you. If you have any questions or aren't satisfied with something, we encourage you to give us a call at 877-204-8816 or take a look at the FAQ page on our website.
To find the carport nearest you, check out our Carport Directory page online and see what EZCarports is offering in your area!
Check out our RV shelters

image gallery

to learn about our 3 different roof options!