Tough metal buildings from EZCarports

Order online to get free delivery and installation!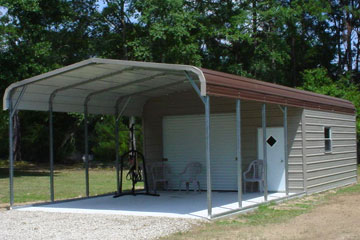 Tough metal buildings are a great way to protect your belongings in the best way possible. We offer affordable and durable tough metal buildings, sheds, and barns that you can easily design and build from the comfort of your home with the click of a mouse. Our metal garage buildings are a great place to store automobiles, boats, RVs, machinery, or even turn into a warehouse or work shed. All of our buildings are made of recyclable, 12 or 14-gauge steel that can withstand the unpredictable including rain, hail, snow, wind, debris, and damaging sunlight. Installing our tough metal buildings are easy since they can be placed onto any surface including dirt, grass, concrete, and asphalt.
Begin building and pricing your own tough metal building by going to the Carport Configurator page. Our tough metal building are located around the country, visit the Carport Locations page to find carports near you. You can also visit out Standard Carports page to find tough metal buildings we have already sold.
Friendly Customer Service 9am-9pm
Buy Online, Hassle Free
Best price Guarantee
Free Delivery

Free Installation
Designing your own customized building has never been so easy. By using our simple configurator, your metal garage building is only a few simple steps away. We can build any size metal garage building, regardless of how large or small you may need it. There are several options from which you can choose including the color of your new tough metal building as well as the number of windows, doors, and garage doors. Shopping for metal garage buildings by photo is also an option. Making your shopping experience a pleasant and efficient one is our main priority and we pledge to give you nothing less than the absolute best customer service we can.
Our tough metal buildings are durable enough to last for decades upon decades making a purchase a lifetime investment. Protecting the things that matter to you has never been so easy. You will never regret making the decision to purchase one of our metal garage buildings. The weather is unpredictable, but the durability and quality of our metal garage buildings will protect your valuables for many years to come.
Need help? We have placed a FAQ page online to assist you with quick questions, and if you would like to speak to a professional contact us Toll Free at 877-204-8816 .
If you are looking for a carport in a specific area check our Carport Locations page for reference of options nearest you!
Check out our tough metal buildings

image gallery

to learn about our 3 different roof options!