Carports in North Carolina

Free delivery and installation for carports in NC!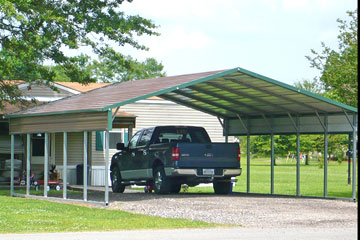 EZCarports.com in North Carolina is the best place to find steel carports to fit all of your storage and protection needs from cars and boats, to RVs and bikes, to equipment and power tools. North Carolina has a diverse climate and terrain, and the people are just as diverse. With so many things to do in this state, we accumulate many belongings that deserve to be protected from the elements, and that is what EZCarports is here for!
Why should you buy from EZCarports? We manufacture our steel carports with all-weather conditions in mind. Whether you are in the Mountains, the Flat-lands, or on the Coast, our carports will stand up to your weather. All of our carports are steel manufactured and treated with a flow coat to prevent rust through wear and tear. For over 35 years, quality service has been our biggest priority as all of our structures come with a 35 year warranty to ensure that it is a true investment.
To begin building and pricing your own carport in North Carolina, hassle-free, go to the Carport Configurator page. If you need any help figuring out the design, dimensions, and style you need, visit our Standard Carports page to see some of our popular models.
Friendly Customer Service 9am-9pm
Buy Online, Hassle Free
Best price Guarantee
Free Delivery
Free Installation

We strive to make your EZCarports experience easy and enjoyable, and our easy online configurator gives options for anyone to build a structure that fits their needs best. So take a look at your region or call us Toll Free at 877-204-8816 to find the carport that fits your needs the best!
Click on your area for more information about local carports from EZCarports.com